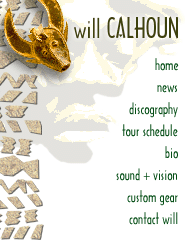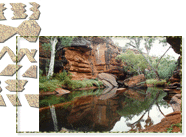 March, 1996
The Outback, Australia

Passageway to Meditation.
---
Also from Will:

CD+DVD Album: "Native Lands"





Click here to show more info
---
Living Colour's
Latest Release: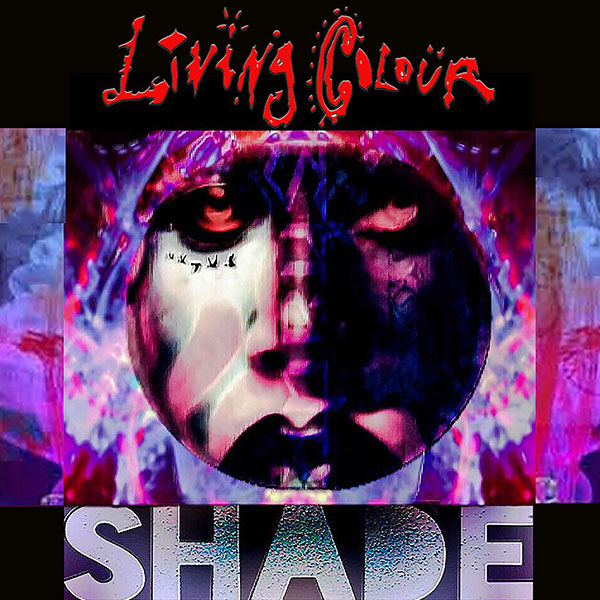 CD Album: "
Shade
"
Also from
Living Colour

CD Album: "
The Chair in the Doorway
"

Click here to show more info
Note: Audio samples are indicated in brackets to the right of some tracks. Samples are available in the following formats:


WAV file (mono, 22 KHz, 8 bit) - no special player required; largest file size, poorest sound quality
Lo-fi MP3* (stereo, 24 KHz, 48 kbits/sec) - smallest file size, medium sound quality
Hi-fi MP3* (stereo, 48 KHz, 112 kbits/sec)- medium file size, highest sound quality


* Requires MP3 player
If prompted, select "Save it to disk" before playing file.
Click Here to download a player if you do not have one already.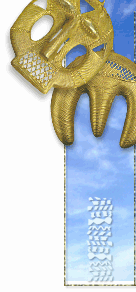 Three separate forces growing, gaining in power, speed and magnitude on seemingly different paths. Each with amazing experiences, similar yet worlds apart. Now their courses meet. They may collide and erupt, lighting the heavens 1 time for all to witness. Or perhaps they will merge and gain in strength, sharing each other's magic. This time, they light the heavens like a star, shining at its brightest. Now is the time for this band of musical magicians known as Jungle Funk. As the pebble ripples the pond, so 2 shall this music.

When you discover the chances they take, you shall join the expedition of 3 artists touched by life, moved by love, strengthened by death, lifted by struggle, united by instinct. "Jungle Funk" = Will Calhoun, Doug Wimbish and Vinx de Jon Parette. Their music is "DJ influenced Virtuosity". Join us! Show some Love!





Musicians

Doug Wimbish
Bass, vocals, loops

Will Calhoun
Drums, percussion, loops

Vinx
Vocals, percussion, loops & samples





Tracklist

Ugly Face
Worship
Trance [wav(900KB), Lo-MP3(240KB), Hi-MP3(570KB)]
Headfake
September
Torn [wav(730KB), Lo-MP3(200KB), Hi-MP3(460KB)]
Temporary Love [wav(950KB), Lo-MP3(260KB), Hi-MP3(600KB)]
Cycles
Perculator
Still I Try
Aquarius
People[wav(780KB), Lo-MP3(210KB), Hi-MP3(500KB)]
Jungle Funk
Prague City Lights
Research & Development





Click here to order Jungle Funk



Website created by Princeton Internet Group, Inc. - PING