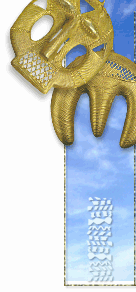 Check out the Foreign Press page.

Check out the Tour Schedule page for concert dates.

Check out Will's page on Facebook.

Check out Will's page on The DrumNetwork.






November 4, 2022

Will performs with Oumou Sangaré at the Apollo Theater

"We caught her long-delayed debut at the Apollo Theater on Oct. 29, and a free outdoor show in Providence, Rhode Island the next day, the final two shows of the tour. In both cases. Sangaré and her band delivered joy and ecstasy, delighting fans and wowing newcomers."

Read the review from Afropop Worldwide: Oumou Sangaré's Triumphant U.S. Return

May 13, 2022
Review of Will's "Native Lands" Album from The Riff
"To many of the older fans there for the Stones that day in '89, Living Colour was just noise, but many in my generation heard something more. Some of that more came from the band members' fluency in jazz, and Native Lands is a testament to those influences as well as an extension into new possibilities of sound."

April 30, 2022
Will's Artwork in MOMATH gallery show, in NYC
Traces reveals the hidden patterns created as objects move through space: the pathways of birds in flight, the oars of a kayaker on a still lake, or even the drumsticks of a jazz percussionist. Sometimes periodic but always organized, the traces of these movements — revealed by the technologically savvy artists in this exhibit — are as intriguing as they are beautiful.
Take in the stunning visuals, explore the underlying mathematics of the artwork, and manipulate interactive exhibits to create your own unique light traces. Traces features the work of Xavi Bou, Will Calhoun, and Stephen Orlando.
View press release for this event
You may also attend a preview and reception with Will the previous day
on Friday, April 29 at 6 PM.
National Museum of Mathematics (MOMATH)
11 East 26th Street
New York, NY 10010
Telephone: (212) 542-0566
e-mail: info@momath.org
Please visit the MOMATH event page for tickets and additional information.

October 15, 2020
Will interviewed on the Modern Drummer Podcast
"In this episode Narada chats with Living Colour drummer Will Calhoun to talk about his drumming, influences, and life leading up to 2020 and more. The UPBEAT interview concludes with a percussion performance by Calhoun. In the Shop Talk segment managing editor Mike Dawson talks about Big Fat Snare Drum heads with audio comparison samples."
Listen to and watch the interview on the Modern Drummer Website

October 1, 2020
Will Calhoun Joins Gretsch Drums Artist Family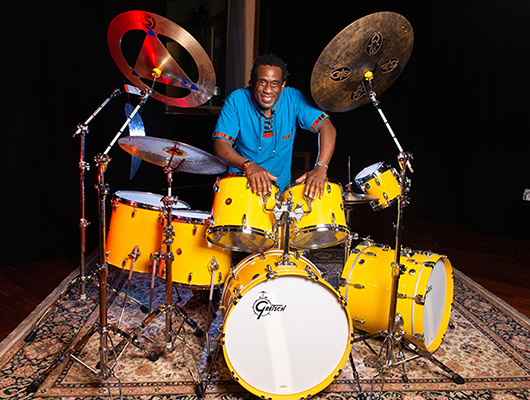 July 4, 2020
Will Calhoun Interviewed by Aubrey Dayle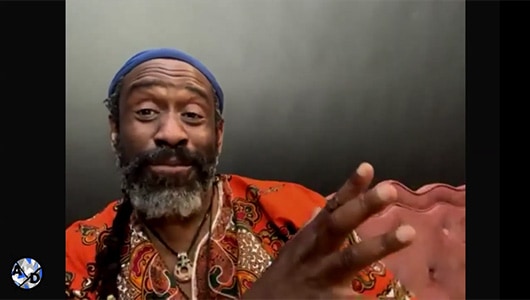 "My conversation with Will covers many aspects of his life in music from his early days up to the present. Will has been a friend of mine for many years, and I wanted to catch him in a much less formal situation than a typical media interview so that people could see him in the way that his friends do. We delve into how he developed as a drummer, producer, and artist. He is also candid about the ups and downs of his musical career."

June 8, 2020
"Living Colour Shares New Version of 'This Is the Life' With Protest Footage"
From SPIN Magazine: "Over the weekend, the group released a live video for their 1990 track "This Is The Life," pairing it with recent footage of Black Lives Matter protests. As the group wrote on Twitter: "Sadly we're still fighting the same fight.""
This news story was picked up by numerous other new outlets.
Read the article on SPIN Magazine's Website

June 1, 2020
Living Colour - Live on Eventide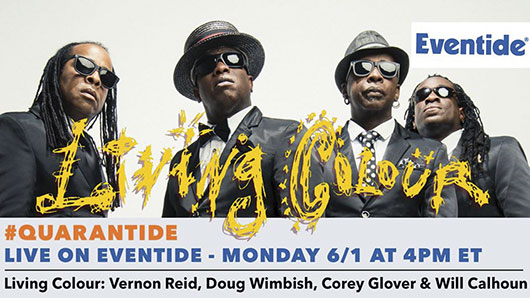 Have you anxiously been longing for a Vivid discussion with the legendary Living Colour? Well, thankfully, your waiting Time's Up, because they are coming at you live on Eventide's "Quarantide," Monday, 6/1 at 4:00 PM ET. We will discuss the Stain that Covid19 has put on the music industry and society in general among the Collide0scope of other topics that are sure to be broached upon. Their insight will be The Chair In the Doorway to another dimension and will alleviate you from the Shade that this pandemic has thrown on the world. Be sure to tune in for some serious knowledge dropping from Vernon Reid, Doug Wimbish, Corey Glover, and Will Calhoun!
Tune in on Facebook or YouTube.


June 6, 2019
Living Colour's Will Calhoun Rocks Out At MoMath
The Bronx Times covered Will's public practice session at the National Museum of Mathematics, one day before his RhythMatics performance event with Stephon Alexander.
Read the story at the Bronx Times
Read more about RhythMatics at the National Museum of Mathematics

April 4, 2019
Will an honoree at 2019 Annual Berklee Alumni Achievement Awards, April 4, 2019.
Join Berklee President Roger H. Brown as the accomplishments of six alumni are celebrated. This special program recognizes College and Conservatory Alumni who have reached chart-topping success in various fields in and around the music industry.
Purchase tickets to the 2019 Annual Berklee Alumni Achievement Awards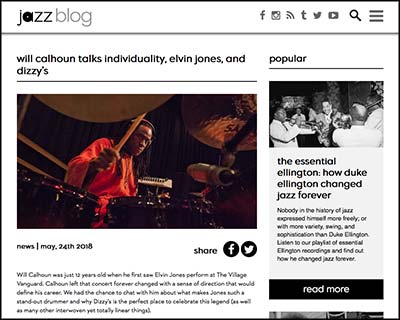 May 24, 2018
Will is interviewed on Jazz at Lincoln Center's Blog
Read an interview with Will on the Blog of Jazz at Lincoln Center, "Will Calhoun Talks Individuality, Elvin Jones, and Dizzy's", in advance of his performance at Dizzy's Club Coca-Cola on Monday, May 28, 2018.

January 2018
Will on Classic Drummer Cover + Nine-Page Interview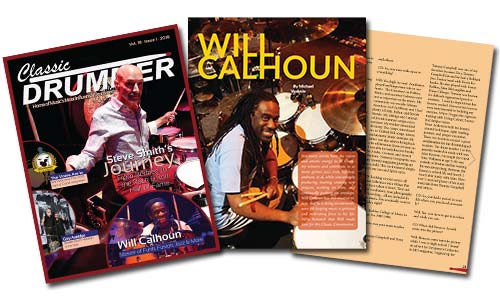 In the January 2018 edition of Classic Drummer magazine, Will talks about childhood musical influences, education, career with Living Colour, approach to playing drums, playing a variety of African instruments, musical influences throughout his career, the changing music industry, and more.
Read the January 2018 Classic Drummer magazine online

September 11, 2017
Living Colour on Late Night with Seth Meyers
Don't miss Living Colour performing as the musical guest on Late Night with Seth Meyers on Monday September 11, 2017 promoting their new album Shade!

September 11, 2017
Living Colour's Shade album is out, and the reviews are in

August 30, 2017
Living Colour's new album, Shade, is available for pre-order — it will be released September 8, 2017
Shade will be available from Amazon.com and iTunes/Apple Music.

August 5, 2017
Will is featured in the August 2017 edition of digitalDrummer e-zine
No-one practices 'hybrid' drumming more creatively than Will Calhoun. Even when he plays acoustics, he uses effects and processing to add texture and colour.
The Living Colour drummer shares his drumming journey and his views on the use of electronics in an interview in the August edition of digitalDrummer.
Read how he got started, how he turned pro, what equipment he has tried and how he combines electronics and acoustics.
Read the August 2017 edition
of digitalDrummer online for free

June 7, 2017
Living Colour debuts song from upcoming Shade album for Billboard
The band also talks about the album, inspiration behind its songs, and future tour promotions.

April 27, 2017
Will Calhoun Plays Jazz Day at Revamped Hammer
Check out this great article from Metroactive.com (San Jose) that discusses Will's background and latest projects, and also promotes Will's performance at the Hammer Theatre Center on April 30, 2017 as part of San Jose Jazz's celebration of International Jazz Day.
Will Calhoun Plays Jazz Day at Revamped Hammer

March 6, 2017
Australian Musician Magazine Interview with Will
Australian Musician's Greg Phillips sat down for a chat with Living Colour's drummer Will Calhoun while he was in Melbourne playing at Bird's Basement with jazz great Mike Stern. Will discusses the upcoming Living Colour May Australian tour, travel, drumming, drum gear and the new Living Colour album 'Shade' due out by year's end.



January 20, 2017

Interview with Will on WBAI Radio 99.5 FM in NYC

Will Calhoun will be live on WBAI Radio 99.5 FM in NYC on Friday, January 20, 2017 from 6-8AM with Legendary host Felipe Luciano to discuss his upcoming Blue Note performances, his latest Elvin Jones tribute recording, as well as traveling and partially living in West Africa.

There are three ways to listen:

November 1, 2016
Vote for Will in The Modern Drummer Magazine Readers Poll
Will is listed in several categories, and may be written into others if desired. Voting is open between November 1 and December 15, 2016 from the Modern Drummer Magazine Readers Poll page.

October 10, 2016
"Is There Any Doubt Will Calhoun Is One of Our Greatest Modern Drummers?"
Ron Hart of the Observer (New York) makes the case in his article which interviews Will, discusses his new Celebrating Elvin Jones album, and talks about Living Colour's new Mixtape EP.

August 22, 2016
Sound Advice: Living Colour Delivers Powerful and Timely Message About Gun Violence
In a NY1 video, Living Colour members talk about their cover of "Who Shot Ya?" by Notorious B.I.G. to raise gun violence awareness.
See the video on the NY1 Website
Living Colour's "Who Shot Ya" will be available September 9, 2016 from Amazon.com and iTunes.

August 16, 2016
Check out the four-star review for Will's new album "Will Calhoun: Celebrating Elvin Jones"
on All About Jazz
"Will Calhoun: Celebrating Elvin Jones"

January 1, 2016
Donate to The Gloster Arts Project and introduce kids to the arts
Please support the The Gloster Arts Project, which benefits kids who have little or no access to the arts. Your support can help make a difference.
Contributions for the charitable purposes of Margaret Porter Troupe Arts Projects/The Gloster Arts Project must be made payable to "Fractured Atlas" only and are tax-deductible to the extent permitted by law. Mail checks to:
Fractured Atlas
c/o Margaret Porter Troupe
1925 Seventh Avenue, Suite 7L
New York, New York 10026

August 2015
Will in Drumhead magazine, cover and interview
Will is the subject of Drumhead magazine's August 2015 (Issue #50) edition, with a cover photo and 18-page article.
The in-depth article features many photos, insights and anecdotes concerning Will's influences, development, gear, career and many projects.
Check it out!
Subscribe to Drumhead magazine

May 15, 2015
Will to perform at new South by South Orange Festival (SOxSO)
South Orange Village and Seton Hall University announced that the first South by South Orange Festival will run from June 26 to June 28, blending art, music and technology in a three-day affair reminiscent of the famous annual South by Southwest Festival in Austin, Texas.
Read more about the event from the Essex News Daily

March 30, 2015
"Way of the Rain (Sun)Dance" featured article in Film Music Magazine
Check out the great writeup of The Way Of The Rain performance project from the recent performance at the 2015 SunDance film festival in Park City, Utah.

January 5, 2015
Vic Firth Performance Spotlight: Will Calhoun
Will Calhoun performs for the Vic Firth cameras during a recent shoot in New York City.

December 16, 2014
Meet Will Calhoun with two tickets and VIP backstage passes to a Living Colour US concert
The winner of this Charitybuzz auction will receive two tickets to any US Living Colour show during which guests will be allowed backstage for aŹsound check and a meet and greet with drummer Will Calhoun! Auction proceeds benefit The Geena Davis Institute on Gender in Media.
Please note: this auction ends Wednesday, December 17, 2014 at 3:12 p.m. EST.
Learn more or enter a bid

December 13, 2014
Will Calhoun interviewed after Southwestern College Arts Studio performance
Will performed at Southwestern College in Chula Vista, California as part of a lecture series for recording arts students. The College's newspaper, the Southwestern College Sun, interviewed him afterwards, in which he spoke about becoming a musician and his studies at Boston's Berklee College of Music.
Read the Southwestern College Sun interview

December 8, 2014
Will performs in "The Way of the Rain&quot for 2015 Sundance Festival in Utah
Will Calhoun will perform in "The Way of the Rain" as a special event for the 2015 Sundance Festival in Park City and Salt Lake City, Utah. The event will be held on January 26 and 27 — Will's performance date will be announced.
"The Way of the Rain" is a live multidisciplinary art performance inspired by the life sustaining annual monsoon rains of the fragile southwest high desert plateaus. The work is created by Creative Director Sibylle Szaggars Redford, and world-renowned artistic collaborators Will Calhoun, Dave Eggar, Chuck Palmer, Desmond Richardson, Ron Saint Germain, Steve Cohen and Floyd Thomas McBee III. The Way of Rain comes to life through paintings, music, dance, film, light and spoken word. There will be featured appearances by Sussan Deyhim, Marc Roberge, Complexions Contemporary Ballet, and Robert Redford (the artist's husband.)
The event it will be held at the annual Sundance Film Festival, which showcases American and international independent films in a competitive event. Actor and Utah resident Robert Redford is the President and Founder of its governing organization, the Sundance Institute.
Check out The Way of Rain Website for further information.

November 13, 2014
Will Calhoun and Doug Wimbish honored with room dedication event at the School of Rock
The School of Rock in Rockville Centre NY, a music school with over 100 francise schools worldwide, honors Will Calhoun and Doug Wimbish with a ribbon cutting and room dedication ceremony on December 20, 2014. A musical celebration will be held with performances by Will and Doug, Troy, The Inoculated Canaries, and Craving Strange. The event is by invitation only.

September 1, 2014
Video: Will Calhoun Interview for Hanix magazine
Will talks about how he got started as a drummer, recording with Living Colour, the Bronx Music Heritage Center, the Bronx environment, and growing up there.

August 9, 2014
Will interviewed on WICN 90.5FM Radio "Colors of Jazz" program
Will is interviewed on the "Colors of Jazz" program, broadcast by WICN 90.5FM (Worcester, MA.) "He'll talk about touring the world with rock band Living Colour, honing in on his career in jazz and his album Life In This World released in 2013 with Motéma Music."
The program will be broadcast on August 9 at 4pm, and may be listened to on the radio (90.5FM), or over the Internet from WICN's Listen Live page.

July 24, 2014
Will Calhoun's music featured in "Boogie Down Booth" installations, celebrating the music of the Bronx in NYC; Will quoted in Wall Street Journal article.

July 15, 2014
Will featured on Drummer Radio
Will is interviewed on the latest edition of Drummer Radio, and selected tracks that have musically influenced him are played. The interview can be listened to at the bottom of the page.
Read the article on Drummer Radio

May 28, 2014
Will interviewed by Examiner.com
In the article, Will talks about Living Colour's upcoming new album, "Cult of Personality", hip-hop and rap, touring with Living Colour, the Black Rock Coalition, and classic rock.
Read the article on Examiner.com

April 1, 2014
Photos: Will visits Sup'imax Institute in Dakar, Senegal
Will visited the Sup'imax Digital Arts and Crafts Higher Education Institute in Dakar, Senegal.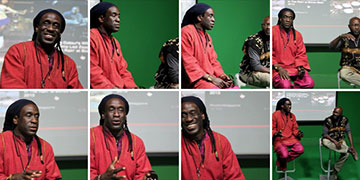 View the photos on Facebook
(Top description in French)

February 20, 2014
Video: Will Calhoun's Art Collection "AZA" Is Released

June 21, 2013
Video: Will performs at the 16th Annual Essaouira Gnaoua Festival in Morocco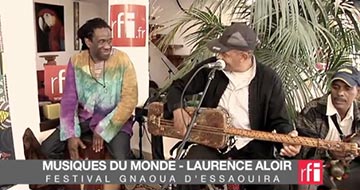 Report and performance excerpt by Radio France International (RFI.)


Watch the video on DailyMotion

June 9, 2013
Video: Will's drum clinic/performance at at Batuka Brasil, São Paulo, Brazil

Reviews of Life in This World

April 7, 2013
Video: Living Colour Performs Live at WrestleMania XXIX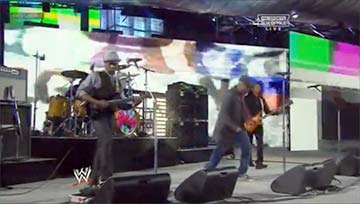 Living Color performed their hit, "Cult of Personality" live at Wrestlemania XXIX.


Watch the video on DailyMotion

2012
Video: Bobby Thomas and Will Calhoun Jam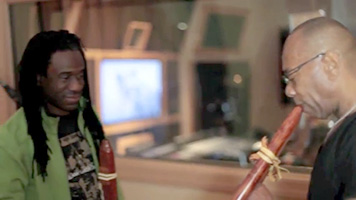 Will jams with Bobby Thomas of Weather Report and the Monty Alexander Band. Video produced, edited and recorded by Andre Betts at Universal Music Production in Hackensack, New Jersey.


Image 2
Image 3
Image 4
April 30, 2011
Will Calhoun and Bernie Worrell jam at 2011 ASCAP "I Create Music" EXPO
Will Calhoun and P-Funk/Talking Heads legend Bernie Worrell play an impromptu jam after their conversation at the 2011 ASCAP "I Create Music" EXPO.
Watch the video, on YouTube

Will in Interview and Wavedrum Print Ad for Korg

Will's Drum Lesson in Rhythm Magazine Disc Video
Will gave a lesson on subtleties within the groove drum track.
The video was on the disc included with the May 2010 edition of Rhythm magazine (UK edition).

Video: Will Warms Up On Sleishman Twin Pedals
Will tries out a brand new Sleishman Twin Pedal in the Sydney Opera House, Australia, before his performance with African singer Oumou Sangare (Mali) and Bella Fleck (US banjo virtuoso.)

Will's Native Lands Videos in Streaming Museum Exhibition
Three music and video works from Will's Native Lands CD+DVD are part of the Streaming Museum's exhibition "New Era: The Middle East", which runs from October 8 to December 8, 2009.

Coverage of Living Colour on tour

Reviews of Living Colour's new album

Will in World of Drumming Photography Book
Sticks 'n' Skins: A Photography Book About the World of Drumming features Will Calhoun and over 500 drummers from the drumming community.
A perfect gift, music lovers will discover the heartbeat of music this holiday season in this 560-page coffee table book illuminating the eclectic world of drumming over the past 70 years.
Fotos By Folletts photographers traveled to 53 cities in four countries and photographed over 500 drummers to be included in the pages of this captivating hardcover book. From the true legends to students and teachers, drum- techs to cartage companies and shop owners, Sticks 'n' Skins features some never-before-seen photos and stories, and preserves the legacy of this unique group of musicians.
Visit www.sticksnskins.com for more information.

Living Colour in-store appearances
September 18, 2009, 5:00 PM
In-store appearance at Waterloo Records
600-A North Lamar, Austin, Texas 78703
Cost: free
September 15, 2009, 5:30 PM
In-store performance at Park Ave CDs
2916 Corrine Dr, Orlando, Florida 32803
Cost: free
September 14, 2009, 6:00 PM
In-store performance at Criminal Records
1154-A Euclid Ave., Atlanta, Georgia 30307



Friday, August 21, 2009
7:00pm to 12:00 midnight

ANNOUNCING THE ON THE MOVE - SOUNDS INSPIRED BY MUMIA ABU JAMAL **RECORD RELEASE PARTY**
JOIN BLACK WAXX AND ARTISTS AND ACTIVISTS UNITED FOR PEACE

At: The Solidarity Center
55 West 17th Street
Between 5th & 6th Avenues
New York City 10011


To: Celebrate the release of On the Move – Sounds Inspired by Mumia Abu Jamal and to celebrate the voices that have come together to demand through words and song that Mumia Abu Jamal be set free! This 2-disc album is a triumphant tribute to Mumia's living legacy and the excellence of all of the artists who have contributed to this masterpiece!

Those lending their voices to this powerful collection range from renaissance to world-renowned artists such as Grammy winners Public Enemy, Maya Azucena and Living Colour, Abiodun Oyewole of the world-famous Last Poets, who are internationally credited as the godfathers of rap, Philadelphia born Res whose song "They Say Vision" hit number one on Billboard charts, internationally acclaimed jazz and R&B vocalist Stephanie Rice, Immortal Technique – one of the most well-known unsigned rappers in the world, two-time National Endowment for the Arts winner Fred Ho and two-time John Lennon Songwriting Contest winner Nana Soul. Other artists on the compilation include Kahlil Khan, Latisha Divine, Hasan Salaam, AKIR, Kobe James, The Hard Wash, SoSoon, Spiritchild, Kafele Bandele, Voice of the Children, Yaw and Melinda Davis. On the Move also features commentary by Larry Holmes, Monica Moorehead, Richard Kossally, Sara Flounders, Michael Kramer, Larry Hales, Brenda Stokely and Johnnie Stevens.

FEATURING LIVE PERFORMANCES!!! ON THE MOVE AVAILABLE AT SPECIAL PRICE FOR RELEASE PARTY ONLY!!!

Please celebrate this huge accomplishment with us! Admission is Free! To RSVP or for more information call 212-696-8562 or info@blackwaxx.com





August 13, 2009

A story on Will in Associated Content
"Will Calhoun Breaks Down the Learning Process with Living Colour: Living Colour's Drummer Prepares for the Release of the Bands New Disc and Fall Tour"

Click here to read the story.





July 30, 2009

This message was sent to me by my friend Michael Ackerman... I'm posting this message in case anyone is interested in assisting Mr. Stubblefield in any way. Thanks for your support. Will Calhoun

Perhaps my greatest hero as a drummer is Clyde Stubblefield. He played like he was from another planet: no one before him or after him played like he did on those great James Brown sides. I wondered what became of him until a few years ago I heard him name mentioned as the drummer on a radio show on NPR. He's in a bit of ill health. He has had bladder cancer and needs a new kidney -- but he's way down the donor list because of the cancer. He's soliciting donations and donors. If you ask me, every hip hop artist ever should donate something because so many of those records use his beats. Where would hip hop be without Stubblefield? Here's the story from a Madison, Wisconsin newspaper. His email address is contained in the story.





June 19, 2009

Living Colour will release their first new studio album in five years entitled "The Chair In The Doorway", September 15, 2009 on Megaforce Records.

Track Listing:

1. Burned Bridges
2. The Chair
3. DecaDance
4. Young Man
5. Method
6. Behind The Sun
7. Bless Those
8. Hard Times
9. Taught Me
10. Out Of Mind
11. Not Tomorrow






June 15-17, 2009

Will Calhoun is a featured artist for a three-day series of conversations, workshops, and performances exploring the intersection of music and quantum mechanics at Haverford College in Pennsylvania.

Click here for more information and schedule.





June 10, 2009

Doug Wimbish and Will Calhoun Masterclass
The Institute of Contemporary Music Performance — Live at The Luminaire





May 15, 2009

Click here for an article reviewing a recent performance of Will and the Charnette Moffet Trio.





April 2009

Check out the video and review from Will's appearance at Adams Drummers Festival 2009.



Watch Will on the Modern Drummer Festival 2008 DVD
This 12 hour, 4-DVD set features Simon Phillips, Gavin Harrison, Will Calhoun, Todd Sucherman, Derek Roddy, Billy Ward, Carmine Appice, Derek Roddy, Dafnis Prieto and many more.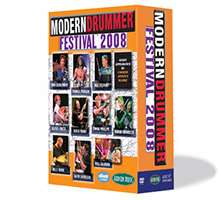 Monday, January 5, 2009
Click here for a link to a video of Will's 1/5/09 Jazz performance on the Fox Morning show, with Keyboardist Marc Cary, featuring Will's composition "DORITA". Links to several Living Colour videos are also featured on this page.

Saturday, September 20, 2008
Click here for links to several videos featuring performance highlights and an interview and kit tour with Will during his performance at the 2008 Modern Drummer Festival (scroll down in the window at the top of the page to get to Will's video links.)

Wednesday, September 10, 2008
Living Colour headlines "Rock For Barack", a benefit concert in New York City also featuring The Family Stand, Earl Greyhound, Danielia Cotton, and Viva Mayday. 100% of the profits from the concert will go to Moveon.org in support of Barack Obama's presidential campaign.
Living Colour drummer Will Calhoun conceived the event as "a night of music with local musicians whose songs will get people thinking about change. That's what this concert is really about: we want people to use the occasion of Barack Obama's historic candidacy to make a change in their lives that goes beyond election day- taking responsibility for their actions, and thinking in new ways about our country, our politics, our families, and our future."
The concert will take place on Wednesday, September 10, 2008 at Le Poisson Rouge (formerly The Village Gate) - 158 Bleecker Street, NYC 10012. Doors 7pm, show starts at 8pm. Tickets are $27.50 and can be purchased online here.
Come out for an inspiring night of great music and to support the cause for positive change.



Satruday, August 30, 2008

Click here for an article entitled "Rocker Calhoun gives sound advice to area drummers" covering Will's recent clinic in Rome, NY.





Thursday, July 24, 2008

Photographer Tony Graves is having a groupshow of his photography - featuring Will Calhoun and other musician subjects. Location is 460 Washington St. Newark, NJ 07102, and the exhibition is at 5pm.





May 2008 review of Will's Black Holes Performance at PS 122 in New York City

This past weekend marked the debut of Black Holes. Though I wasn't able to attend Thursday's performance I was able to attend Friday's and Sunday's. Each performance included healing vocalizations, poetry, flute, and dance. Will easily moved from electronic to indigenous instrumentation and from rhythmic to melodic sounds. The combination of rhythmic and melodic sounds and video imagery punctuated by various styles of dance and poetry had an indescribable effect. So profound and welcome was the performance effect that I was reluctant to think, speak, or stand up after it concluded. The sentiment was shared by the persons with whom I sat. I likened the effect to being on the brink of spiritual ecstasy without feeling the need or desire to take that final plunge.

Sunday's performance also featured Moroccan performer Hassan Hakmoun and Jeff Smith of The Family Stand. The most extraordinary part of Sunday's performance was during what I will refer to as the hip-hop segment of the performance. The segment was initiated by African stepping. An MLK speech about poverty was then heard as the stepping continued. Will then brought a drum-machine in the audio mix at which point the dance moved from stepping to hip-hop. Poet Louis Reyes Rivera recited a poem about the hip-hop culture. This segment was magical and meaningful and simultaneously evoked goose bumps and tears.

- New York Journalist/Media Co.



A BRIEF TESTIMONIAL TO BUDDY MILES.....By Will Calhoun
Yes, Buddy Miles was a huge influence on my drumming. His groove was heavy and funky. He wrote fantastic classic songs, his voice was directly connected to New Orleans Blues, Church-Gospel, 70's funk/soul. Buddy supported Living Colour -- every show we performed in Chicago, Buddy would appear backstage. He was very proud of Living Colour, and we (Living Colour) are still huge fans of the "Band of Gypsys". There are many examples of great Buddy Miles tracks... I recommend the Buddy Miles Express recordings, however my favorite recording of his is Jimi Hendrix - BAND OF GYPSYS concert live New Years Day 1970 at the Fillmore East in NYC. This entire recording is a Rock and Roll/Blues Classic.
I attended a benefit/auction for Jimi Hendrix in 1992... I actually won a bid on one of Jimi's never used Fender Strat guitars. Buddy attended as well as Jimi Hendrix's Father Al Hendrix. In 1995 I was approached by a Major record label to produce a Buddy Miles recording. The label was uncertain about our collaboration, so we had to record a demo. I wrote a tune called FATHER. I played drums, TM Stevens-Bass, and Buddy on Guitar and Vocals. The track is Fantastic. Many people are not aware that Buddy plays guitar just like Jimi -- it's frightening. The track was never released due to disagreements with Buddy's legal team and the record company. I own the Masters, so I plan to release this track.
In the past 5 years Living Colour was invited to perform on proper Jimi Hendrix tribute tours in America, featuring Billy Cox, Buddy Miles, Mitch Mitchell, Buddy Guy and others. These tours were amazing. Watching these guys play and listening to the stories about Jimi, Woodstock, etc. were priceless.
We are living in fast times, with many distractions. Our memories become short... however we have lost a Giant. A great human being... and Genius Musician. We should never forget!



Thursday, March 20 (late night Wed, March 19), 2008

Will Calhoun is the Special Guest on "Audio Gumbo" hosted by Charles Blass, on WKCR-FM NYC, 89.9FM and www.WKCR.org.

1-5am early Thursday, March 20th (late night Wednesday, March 19th.)





Thursday, March 20, 2008

Will Calhoun will appear on WBAI 99.5FM New York radio morning show from 8:30 - 9am discussing his upcoming performances at CACHACA this weekend, as well as few other new topics. You can also listen to the interview via internet by visiting www.WBAI.org.






Jazz Jam Fund Raiser for Pan Africanist Elombe and Nomsa Brath - Press Release






January, 2008



Ethel Calhoun is leading a great dance/fitness class in Brooklyn that is worth checking out!

DANCE VIBRATIONS is a high-energy movement experience that will invite participants to dance to rhythms from Africa, Brazil, Cuba and the Caribbean. Experience the beauty, energy, and power that dance can provide in a one hour class facilitated by professional dance instructor, performing artist, certified Personal Trainer, Ethel Calhoun. Release your mind and body and free your spirit. In this class various dance moves will be taught as well as fitness and strengthening exercises that will assist to create a strong body and improve overall fitness level. Learn dances that will invite your spirit to take flight. Experience an environment that is supportive to all dance and exercise levels.

Get fit in 2008 at The Village @ Gureje

An exciting dance/fitness class is in full swing. Join the fun: wear something loose, bring a towel, water, footwear and bring your spirit ready for release. Don't delay: Have a registration form emailed to you by contacting us at info@Gureje.com. Whew, it is a blast!!!

Class Schedule: 1 hour classes are held in 4 sessions and on Wednesday at 7:00pm and Saturday 10:30am.

Dates:
1st Session - Jan. 9, 12, 16 and 19, 2008

2nd Session - Jan. 23, 26, 31 and Feb. 2, 2008

3rd Session - Feb. 13, 16, 20 and 23, 2008


Fees: $45/session

Drop in: $15.00

Venue: The Village @ Gureje

884-886 Pacific Street, Brooklyn, NY 11238

(Between Underhill & Washington Aves.)

Tel: 718 857 2522 / 718 857 2105



News Archive

Latest vibe
Welcome to the award-winning Web site. Thanks for your patience as we've worked to put it together. Special thanks to Rob Freda, Nick Koziupa, Chris Kelly and all the good folks at Princeton Internet Group for their talents and efforts. Stay tuned for updates and new content as the site continues to evolve...


The site was recently honored with an "Award of Distinction - Design/Web site" by the prestigious Communicator Awards competition. "Congratulations to the team at PInG and Will on being recognized yet again for our successful collaboration and outstanding creative results!"
- Rob Freda, CEO and Founding Partner,
Princeton Internet Group


Check out Doug's album Trippy notes for Bass. Will co-produced the album which features such luminaries as Bernie Worrell and Talvin Singh and mixes by Adrian Sherwood.


Website created by Princeton Internet Group, Inc. - PING